About 3 years back, I wrote an article on another blog about picking names for my then-unborn child. While that endeavour was already quite stressful, I realise it does get rather more complicated when you already have a name to begin with and need it changed. If you're thinking of changing your name, there are a number of things you may want to take note.
Supporting Documents
For starters, you'll need the following supporting documents:
Your marriage certificate for insertion of married name, if any.
Your baptism or religious certificate for insertion of religious name, if any. This certificate should the registrant's name in full as well as the Birth Certificate (BC) / NRIC / Passport number (for permanent residents).
Your deed poll for change of name (including ethnic name), if any. The Deed Poll is a legal document executed in a legal office to effect a change in name, including the ethnic name (ie. Name in Chinese Characters, Jawi or Tamil Script).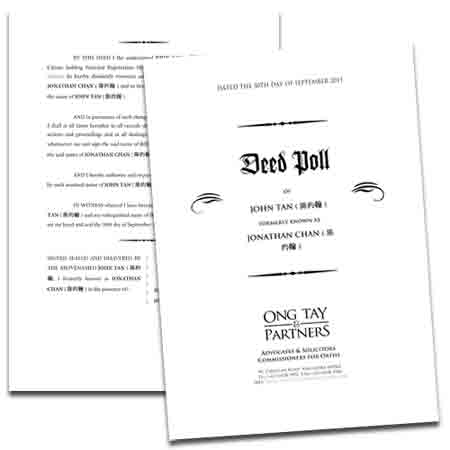 Your deed poll is a document you will need to keep for life. So it will probably make sense for you to have your deed poll laminated for preservation.
For Permanent Residents
Permanent residents will require the following additional documents:
Entry & Re-Entry Permits
Expired & valid passports
Certificate fo identity, if any
Malaysian identity card, if applicable
For Singapore Citizens/Permanent Residents Below 21 Years of Age
The deed poll needs to be executed by the registrant's parents/legal guardians if the registrant is below 21 years of age. (Yes, we've got a form for that too.)
For SAF Personnel
If you're currently serving NS and are holding the SAF 11B Card in place of your civilian identity card, you will be required to retrieve your civilian IC from CMPB-MINDEF first before submitting the application for your replacement identity card.
Changing your Identity Card

You will need apply to the Immigrations and Checkpoints Authority to change your identity card within 28 days of changing your name. The application can be done online at the iC Online website (with payment for the replacement to be made via credit card or eNETS only), or over the counter. You'll be charged S$60 for the application either way.
Online Application
With the online application, you'll need to supply a soft-copy passport-sized photograph in JPEG format (.jpg) not exceeding 60kb in size with the following specifications:
The photograph must be taken within the last 3 months.
The photograph must be in colour, taken over a white background.
If the photograph is scanned from a printed hard copy, the hard copy needs to be in matt or semi-matt finish.
Your full face must be shown, without headgear; however, headgear worn in accordance with with religious or racial customs (e.g. tudungs, burkhas, Sikh turbans, etc.) is acceptable as long as it does not hide your facial features.
The photograph cannot be taken in uniform.
You'll also need to send out your supporting documents (baptism/religious certificate, deed poll and/or marriage certificate), if any, via e-mail to ICA_IC_Unit@ica.gov.sg or fax to (+65) 62936991 (if via fax, indicate "iC Online" on the first page of the document.
Online applications typically take 3 days to process.
Over-the-Counter Application
If you're planning to apply over the counter, you'll need to bring the following:
Your current identity card
One recent passport size photograph (with similar requirements as set out in the online photograph submission above)
The requisite supporting documents listed above, if any.
Over-the-counter applications, and collection of new identity cards are serviced at:
Counter 1, IC Unit
Citizen Services Centre
3rd Storey, ICA Building
10 Kallang Road (next to Lavender MRT station)
Singapore 208718

Operating Hours:
Mon-Fri: 8am to 4.30pm
Sat: 8am to 12.30pm
For more information, you can look up the ICA website at http://www.ica.gov.sg/page.aspx?pageid=140